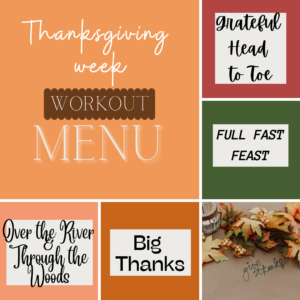 With Thanksgiving upon us, all I can think about is that wonderful feast I have coming up! And I plan on having a little bit of everything on the menu. The annual Thanksgiving feast comes full of calories, all ready to satisfy and make themselves at home for the holidays. Yikes! It's time to put workouts on your menu plan for the entire Thanksgiving week.
The best way to combat the calorie in-take for a big holiday meal is to get in front of it. Face it head on with some major cardio sessions before the meal makes it to the table. So on the menu this week for Thanksgiving, I have some great Thanksgiving themed workouts to challenge and distract you! Push yourself and try all of them throughout this week. Each of these workouts combines challenge with fun so you maximize your time spent sweating it out with me; if you're having fun, you'll stick with the entire workout! Add in a 5-10k speed walk or run and you've got the whole week-long workout menu filled.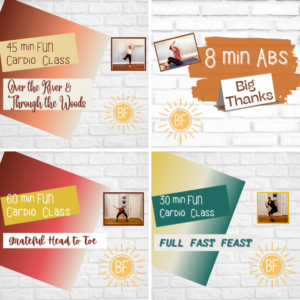 Grateful Head to Toe is a 60 minute full body cardio workout. We give a shout out to each amazing part of our bodies with a fun and challenging move!
Over the River and Through the Woods is a 45 minute plyometric cardio routine. This will keep that heart rate up while you jump and simulate exploring the woods!
Full Fast Feast is a great 30 minute cardio workout. You'll feel like you're in fast forward through some of these moves with the excitement of preparing for the holiday!
Big Thanks is a short but full 8 minute ab workout. You will enjoy giving thanks for your hard-working core as you engage your abs through big movements!
These are all great options for your workout menu Thanksgiving week! You will feel festive and prepared for the holiday. Let yourself feel powerful and ready for the feast and the gathering with your family and friends by doing these fun and challenging workouts with me! Each one is a different length of time so you can choose which day would be best for each workout on the menu. Enjoy!