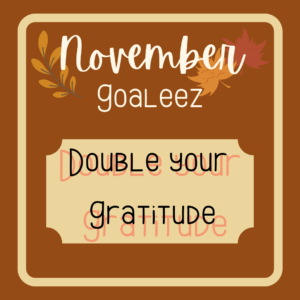 It's so important to have fresh and new fitness goals during the holiday season. This month, show your gratitude for your body and the amazing things you can do with it.
But double it!
While you don't want second helpings of dinner, you do want second helpings of workouts each week. This double-the-fun goal applies to a three course total body workout that includes arms, core and legs. Don't worry, it's not complicated and so doable!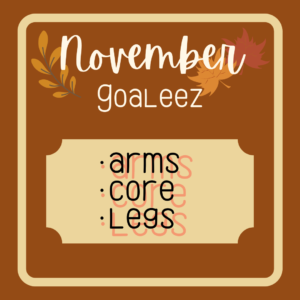 There's just three simple courses you can easily participate in twice each week for the month of November. Stay focused on your gratitude to get all the way through these. You will feel so successful and powerful each workout! Why? Because you are not just letting the food and feasting happen to you.
arms – 100 pushups
core – 8 min abs
legs – 1/4 mile speed walk

Join the GOALEEZ this month! Before you know it, you'll be more toned up and fit at the end of November than you were at the beginning! Sounds marvelous doesn't it? Have fun participating in this three part, double gratitude total body workout course! Post on social media and tag @brighterfitnessfriends on instagram, or join Brighter Fitness Friends on Facebook and post or comment with your progress.