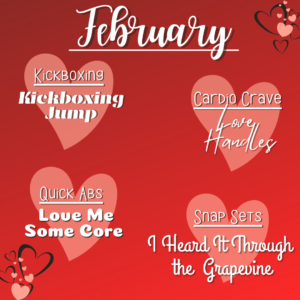 Here's what to expect in February … with some extra changes you will LOVE!
Another great KICKBOXING workout to challenge you big time with several jumps. The CARDIO CRAVE for February will make your obliques soooo sore! You will only need 5 minutes for the QUICK ABS to get in there and fire up your core! (*check out below for the last workout)
Announcing a new 4th workout coming out each month! That means there will be fun at home workouts each week, all month long!
And …. a new category! SNAP SETS. This new class is a 10-15 minute cardio workout. It's different from my 10 min CARDIO classes because the combinations are made up of more simple sets. In fact, SNAP SETS videos are a great option for kids! Each of these short cardio workouts at home will be challenging for the body, without being so complicated for the brain.
*This very first SNAP SETS will bring the sweat and the fun with a classic start – the grapevine!