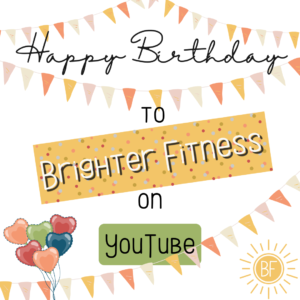 It's been one whole year this month since the Brighter Fitness YouTube channel was created!!!!
Let's celebrate!!! Do 20 Brighter Fitness workouts in 28 days? That's 5 workouts each week this month. You can do any workouts from the BF video library:
QUICK ABS
CARDIO CRAVE
KICKBOXING
DANCE CARDIO
10 MIN CARDIO
SNAP SETS
You can do 20 different fun workout routines, or choose a couple favorites and repeat them each week!
A new component I'm adding this BIRTHDAY month is a 4th week workout!! Stay tuned all month long to get all 4 fun workouts you can do at home!